Business Mediation Services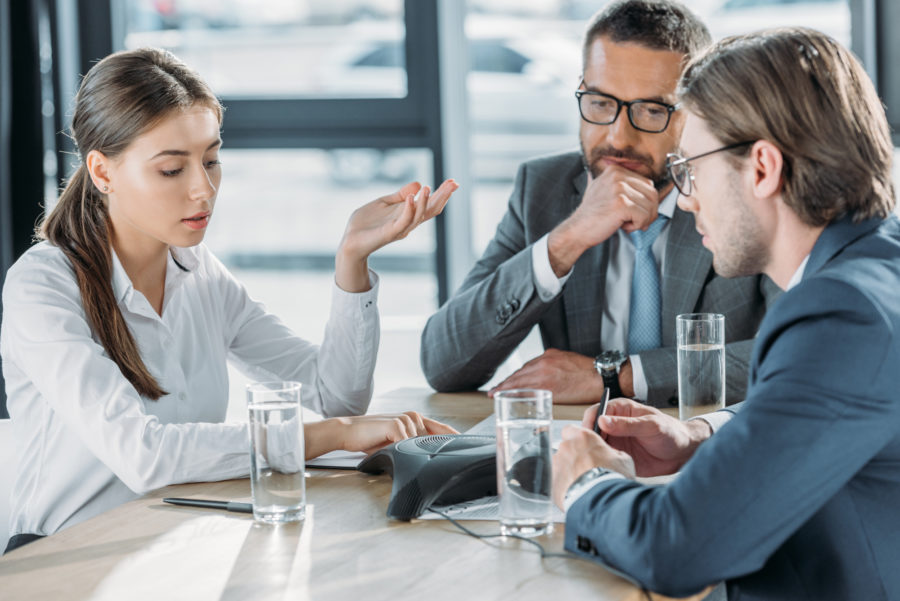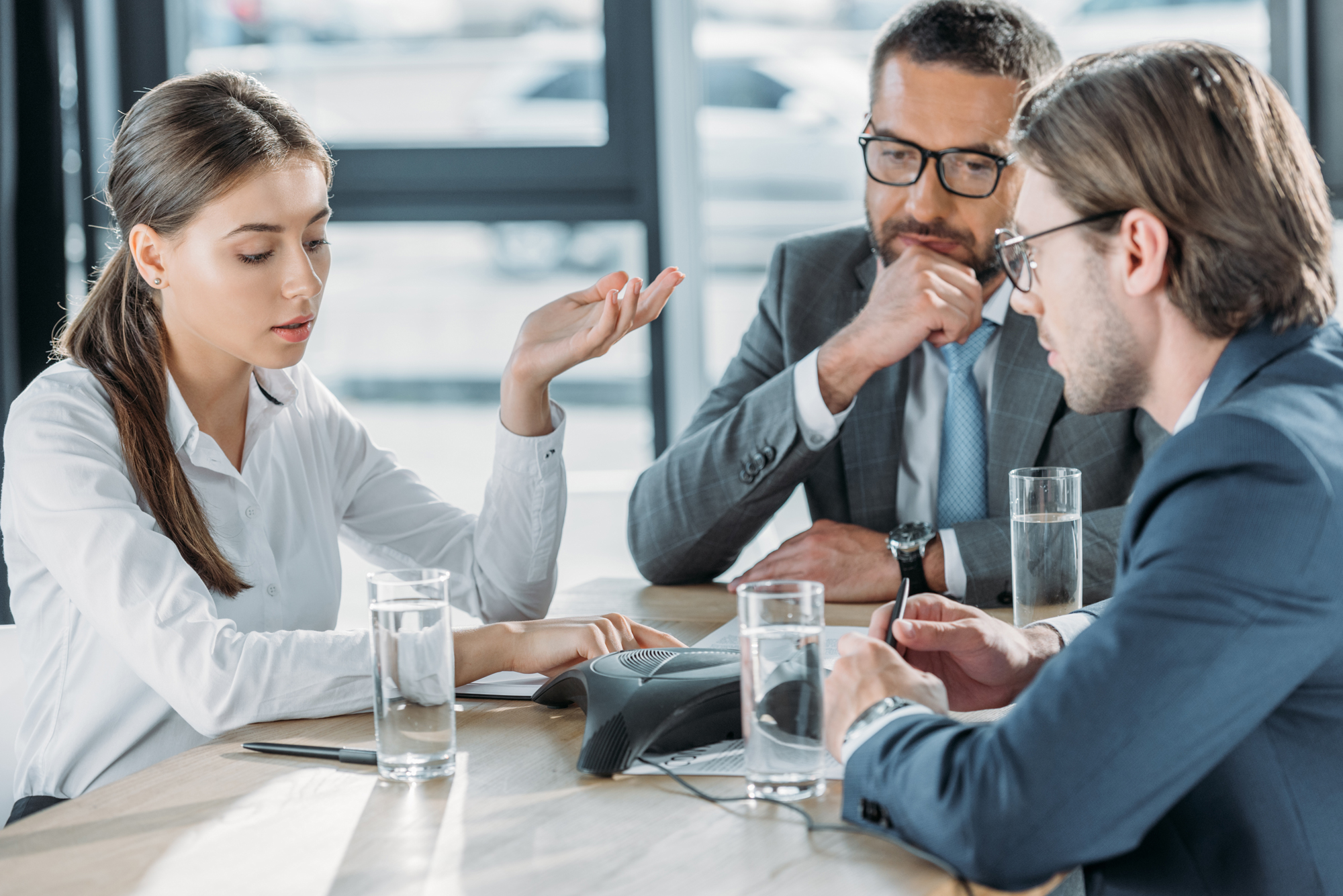 Unresolved conflicts cost organisations a huge amount of money, time and stress.
Every year, workplace conflict costs UK businesses £28 billion. Too often, organisations choose formal litigation as a first resort. These traditional grievance procedures encourage and facilitate bad behaviour, failing to address root issues, and leaving disaster in their wake.
But conflict doesn't have to be like this. It can be a creative and constructive conversation if we just know how. That's where mediation comes in: a restorative one-day process, but also a mindset, a framework, and a set of skills. It requires involved parties to come to a mutual agreement, observed and guided by an objective and confidential mediator. This gives real authority and autonomy to the individual, rather than the adjudicator, far removing the process from the black-and-white outcomes of courtrooms and hearings.
By asking parties to collaborate in an open conversation about the conflict, mediation promotes dialogue, compassion, empathy, respect, courage, trust, and tolerance. It's a values-based and person-centred process, turning fight, flight, freeze or fall responses into flow. Insidious organisational damage is healed, broken relationships are repaired, and both business productivity and personal wellbeing are restored. So much so that we've held a 93% success rate in resolving disputes since we started mediating in 2001.
"MEDIATION WORKS! – Unresolved conflict costs a lot more than just money. Our workplace mediation services resolve complex and challenging disputes swiftly, effectively and with as little disruption as possible. Our team of expert and experienced workplace mediators work with all parties in a dispute to establish their underlying needs and interests, encourage dialogue and ultimately, facilitate a mutually acceptable resolution."
Our unique Fair Mediation Model™ works to address the root cause of the issue through a pragmatic, problem-solving approach. It's really effective and has been used by some big names: Royal Mail, HSBC, Aviva, Network Rail, and The Metropolitan Police, alongside universities, hospitals, councils and pharmaceuticals.
After mediation, when restorative resolution is achieved, the minds of the parties previously in conflict open up: creativity and innovation are revitalised, harmony is restored, and trust is re-established.
 The benefits are boundless:
It places responsibility for the resolution directly with the parties.
It creates a safe place for all sides to have their say and be heard, with uninterrupted speaking time.
Disputes are halted before they escalate out of control.
Mediation reduces the stress and anxiety associated with conflict.
It reduces the risk of litigation and costs of conflict.
Mediation helps to cultivate a happier, healthier and more harmonious working environment.
Resolve a full range of disputes between two individuals.
Develop bespoke team resolution programmes for larger groups between 3-30 participants (and sometimes even more!)
Support with the development of your own internal mediation service.
Deliver a range of workplace mediation training programmes.
How the process works
Mediation doesn't waste any time.
The process usually lasts for one full day, with four key steps:
A member of the business support team will liaise to agree dates and logistics.
The case is allocated to an expert mediation consultant.
Step 2
Confidential calls with parties
Both (or all) parties will be contacted for an initial introduction and opportunity to answer questions.
The mediator meets each party individually to explore the past and the present of the conflict in question.
The mediator meets the parties for a second time to prepare them for the joint meeting.
The joint mediation meeting involves opening statements from the parties, and questions and a summary by the mediator. Parties will be facilitated in an open exchange and conversation, problem-solving and developing a resolution action plan. The mediation will close with a mutually agreed outcome.
Step 4
Twelve months aftercare
We check-in at regular intervals once the mediation itself is completed. This is to see how the parties are getting on with their agreements and to provide an opportunity to deliver further support, where needed.
EDF Energy Case Study: Mediation & Early Resolution
With TCM guidance, EDF implemented an early resolution programme to compliment their existing formal procedures and align with their zero-harm ethics policy.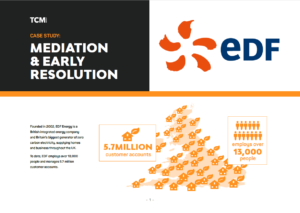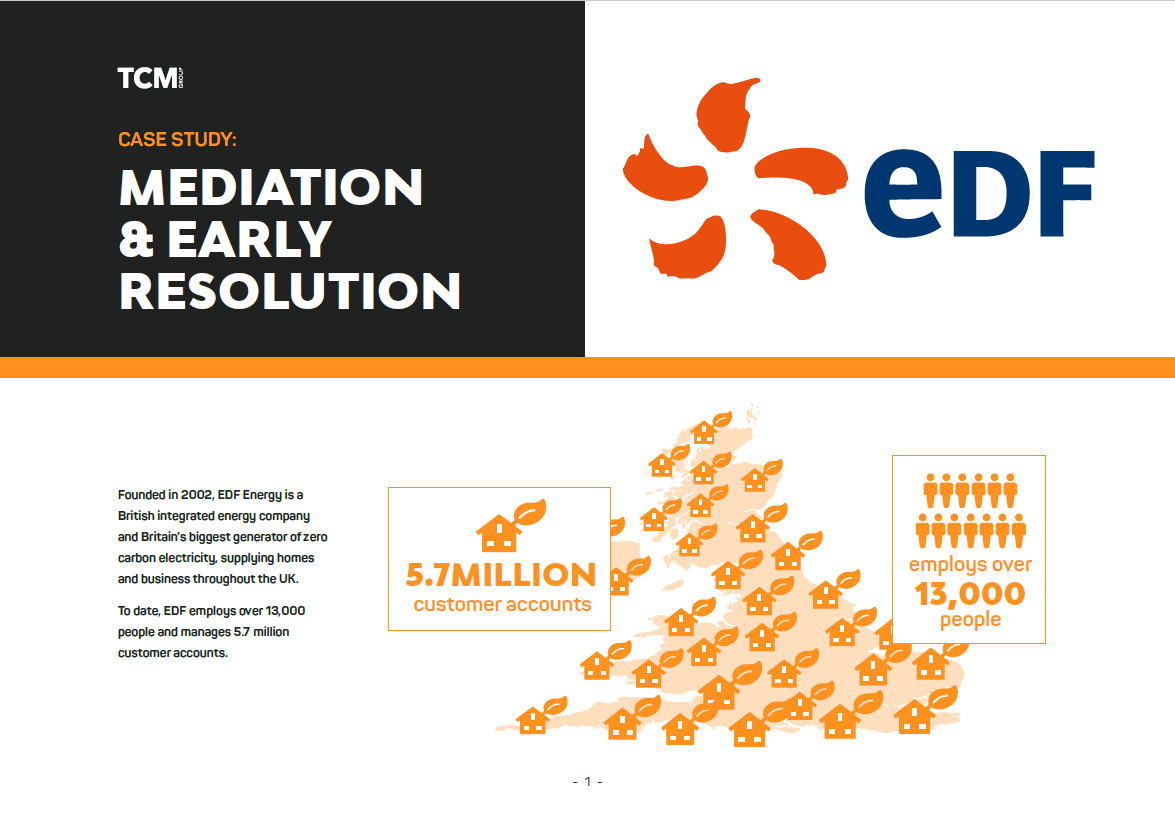 You might also be interested in:
The message couldn't be clearer: mediation truly works – quickly, effectively and compassionately.
Mediation Services Enquiry