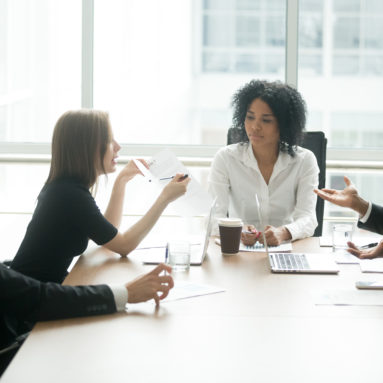 The traditional response to an allegation of bullying or harassment would be to launch into a formal investigative procedure. The process would begin, gathering evidence from all available sources, with the objective of finding out whether or not there was a case to answer.
But how often do colleagues and companies actually get what they want through these existing policies and procedures?
Creating Division
The policies in themselves create division. They evoke an "I win- you lose" situation. They facilitate a defend and attack approach. This, in turn, could affect colleagues' wellbeing, career prospects and have an impact on their home lives. The processes can take months to be heard and even longer for an outcome to be given.
Do these lengthy, unhealthy processes generate a win- win for the colleagues involved, and the company? Almost certainly, not. Generally speaking, both parties will end up losing out in some way. It's just that one person loses more than the other.
During the time where the processes are taking place, the parties are distracted from their work, allies are formed from the information shared by the colleagues entrenched in the conflict and the focus on the company's customers can dwindle.
When colleagues enter into one of these processes, they subcontract away their control to a third-party colleague, usually a Line Manager or HR to make a decision for them. Their message or wishes could be lost or misinterpreted, and therefore could be causing more harm than good.
How is the other party going to feel when they are informed or summoned to the Grievance, Bullying or Harassment investigation/meeting?
The processes really aren't helping anyone
I have experienced this first-hand in giving evidence to a grievance panel. The experience knocked my confidence, I lost faith in the company I worked at, and my wellbeing was affected. I felt nobody cared about me as a person and what I was experiencing. It was a process to follow not people-centric.
Is this truly a way to bring colleagues closer together to resolve their issues or push them further apart? I think we all know the answer to this.
More than ever, over the last 2 years colleagues/companies have realised there are better ways to resolve conflict in the workplace. Colleagues are more likely to disagree or raise their concerns when they experience issues. Very often, this is encouraged and saluted. Through our 20 years' experience here at TCM; the vast majority of colleagues we work with would like to resolve issues/concerns as early as possible and through an Adult-to-Adult approach.
Early resolution is key
This would take the form of a meaningful conversation where their voice can be heard, and they retain control over their needs rather than sub-contracting the responsibility away. Resolving conflict as soon as possible has so many benefits for the colleague and the company. To name just a few:
Colleague Welfare.
Less disruption on the workforce.
Reduced pressure on HR/ER colleagues.
Conflict becomes normalised.
Increased Productivity.
Reduction in Sickness and Turnover.
Over recent years, The TCM Group has been working with many small, medium and large companies to implement a new Resolution Framework. It replaces the traditional grievance and/or performance and/or discipline procedures with an overarching approach. This serves to align employee behaviours with the core values and standards of the organisation and, wherever possible, to use non-adversarial techniques to realign behaviours to organisational standards and values.
If you truly believe in making your workplace a great place to be, please contact us to start your Resolution journey. You can find out more via our Resolution Framework website.
You may also like to read