Healthcare Mediation Services & Training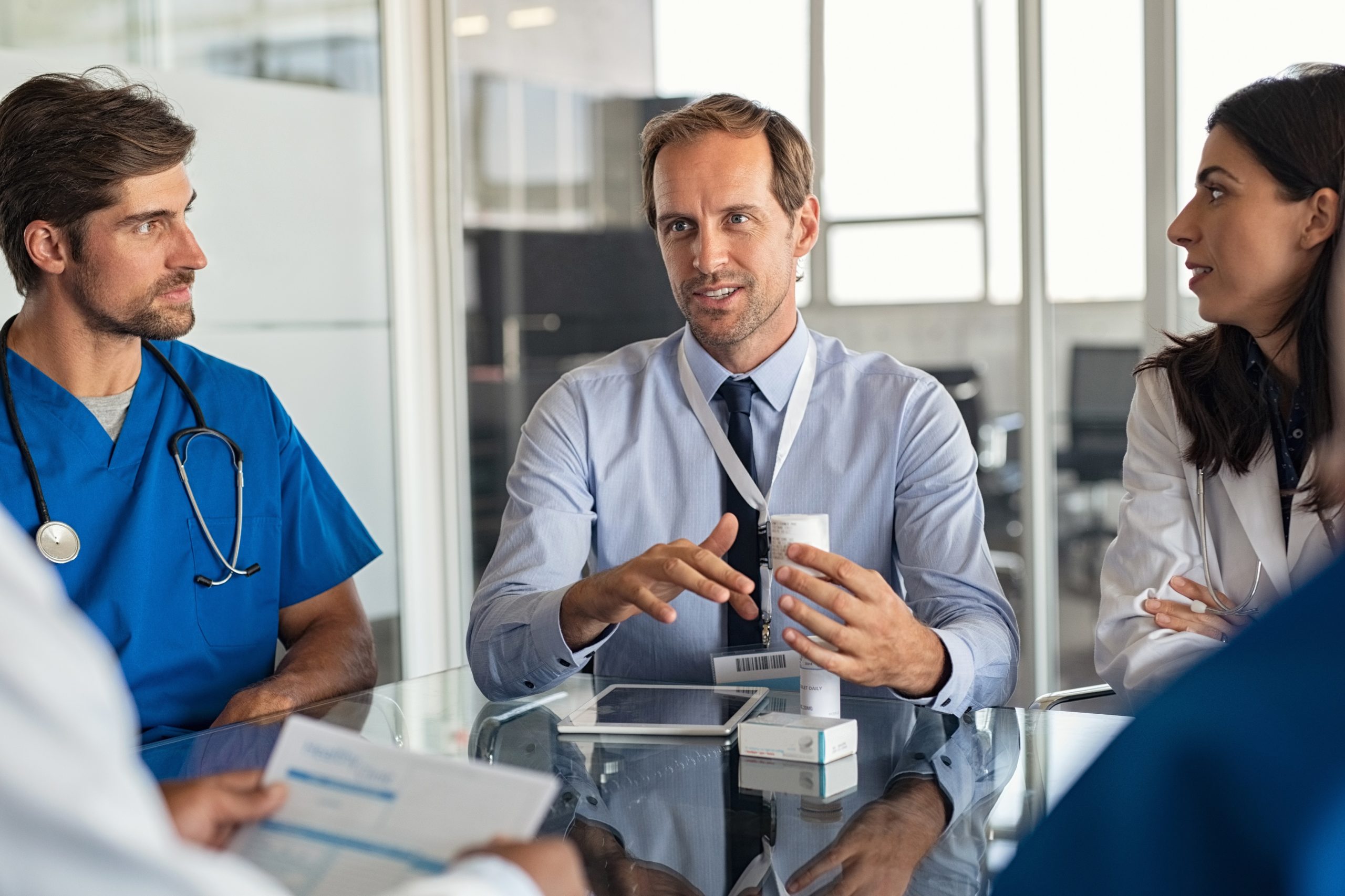 Transforming the way that the healthcare sector responds to conflict
The TCM Group has been transforming the way that healthcare organizations handle conflict since 2001. Central to this has been the introduction of mediation and other early resolution methods as an alternative to traditional HR procedures
Healthcare mediation services and training delivered by experts with extensive experience working in the healthcare setting.
Our healthcare sector offering includes
The handling of workplace conflict has been a longstanding problem within the healthcare sector. With so much at stake, staff frequently report a fear of speaking up, due to the expected investigative processes or bullying from their colleagues. It allows for issues to be resolved quickly, mistakes to be learned from, and the risks to patient care associated with unresolved conflict to be greatly reduced.
The TCM Group offer a portfolio of services and training to facilitate the development of an effective healthcare mediation service, including:
Expertly delivered healthcare mediation services on a one-off or ongoing arrangement
Team mediation and facilitation for both clinical and non-clinical teams
Supporting the set up of in-house mediation services
A wide range of healthcare mediation training courses including our specially tailored National Certificate in Healthcare Mediation accredited program.
All the administrative support needed to make your mediation service a success, including key documentation, policy frameworks, account management and consultancy services
The FAIR Mediation Model™
A unique route to address the underlying root of an issue.
TCM's FAIR Mediation Model™ has been designed specifically for use in resolving workplace and employment disputes. It is a highly effective and well-regarded model used by some of the UK's biggest names including: Royal Mail, HSBC, Aviva, Network Rail, BA, London Ambulance Service, Lloyds Banking Group, The Metropolitan Police, BT, The DWP along with numerous universities, hospitals, councils and police forces.
The FAIR Mediation Model™ is unique because it addresses the underlying root cause of a conflict whilst bringing a pragmatic and highly effective problem-solving approach. It also includes a substantial amount of post-mediation support for the parties for a full year after mediation concludes. Our way works.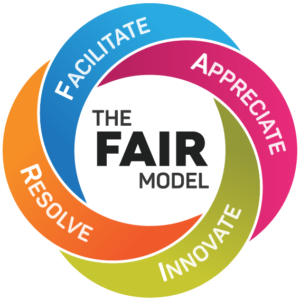 What are the benefits to using mediation within healthcare organizations?
Conflict within the healthcare setting perhaps poses a greater risk than in any other organization. Disputes arise between staff, or may also involve patients. Conflict can also cause stress, reduced productivity, sickness absence and unnecessary distraction, all of which present a direct risk to patient care and safety. Formal HR processes tend to put an additional strain on the staff (or patients) involved and very often worsen disputes rather than resolving the underlying problem.
Mediation carries a number of benefits over these traditional policies and procedures:
Mediation can nip conflicts in the bud at their earliest possible stages.
This includes both inter-staff mediation and for patient-centered conflicts, such as patient safety complaints.
It is an effective tool for resolving a range of issues including relationship breakdown, personality clashes, communication problems, bullying, discrimination or harassment.
The process helps people to sort out their differences, often in just one day.
That's why more and more health and social care organizations are training their staff to mediate workplace disputes.
A recent healthcare mediation project
The Royal College of Paediatrics and Child Health approached TCM, not with a particularly high level of grievances, but with a lot of unhappy staff and hidden conflict. They needed a way to nip issues in the bud and rebuild working relationships.
"We really wanted to avoid having to go through a lengthy grievance process because there is never a winner."
The college introduced a resolution approach whereby most mediations are conducted internally, and the more severe cases outsourced to TCM mediators.
"We have developed a very open and transparent culture where people work collaboratively and respect each others opinions, even if they don't agree with each other. It's a very modern, progressive place to work."
Download a copy of our recent case study to find out more: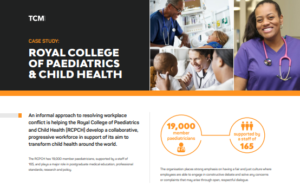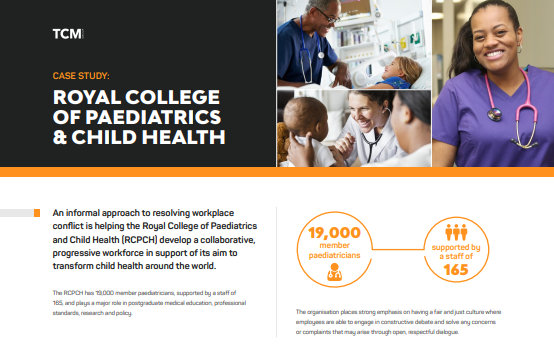 Healthcare Mediation Inquiry