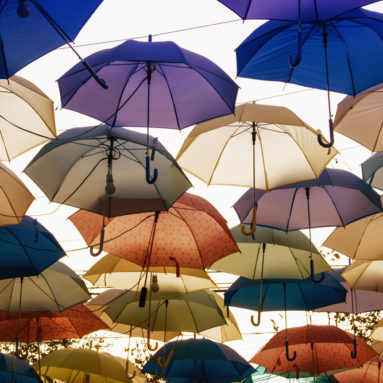 It's a very soggy day in most of the UK today and the rain has been coming down hard all through the early hours of the morning. I feel extremely fortunate to be warm and sheltered indoors, where the conditions are right to finish the working week in safety and comfort.
As I sit down to write my blog about team leadership, I'm reminded that it's the leader's role to create the climate for their team, to keep the bad weather out and create the conditions for high performance. It's remarkable that regardless of the weather, the economic climate or even the impact of dysfunction in other parts of an organisation, a direct line manager can have the single greatest impact on climate and hence engagement in a team.
Team leaders who hold up a metaphorical umbrella, against negative forces and challenging conditions, create a positive climate for engagement and thus high performance in their team. Under the shelter of the umbrella people can feel resilient enough to cooperate generously, they experiment and challenge each other without fear, and work together in flow.
Leaders who do this well, are deliberate in how they create this positive and engaging climate. More and more enquiries into our consultancy are from managers who want support to do this and we applaud their proactivity.
In every case we enable them to improve engagement and teamwork through team facilitation, training and coaching. Our goal can vary depending on the circumstances at the start of the project:
To move a team from dysfunction to function
To work with teams and leaders who already have highly engaged climates to keep these healthy and sustained in anticipation of challenging times
To develop high performance towards a critical and audacious goal – teams can achieve extraordinary results through clarity, focus and synergy.
Throughout 2020, we have provided expert team facilitation, in a highly engaging format online to bring teams together. The highly interactive sessions have provided remote workers with an opportunity to connect and create a greater sense of shared purpose and collaboration.
It's rewarding to see these leaders so proactively digging out the biggest umbrella they can find to create resilience and conditions for engagement for their teams.
Please contact me on [email protected] for more information about team facilitation, training and coaching for engagement and high performance.
You may also like to read