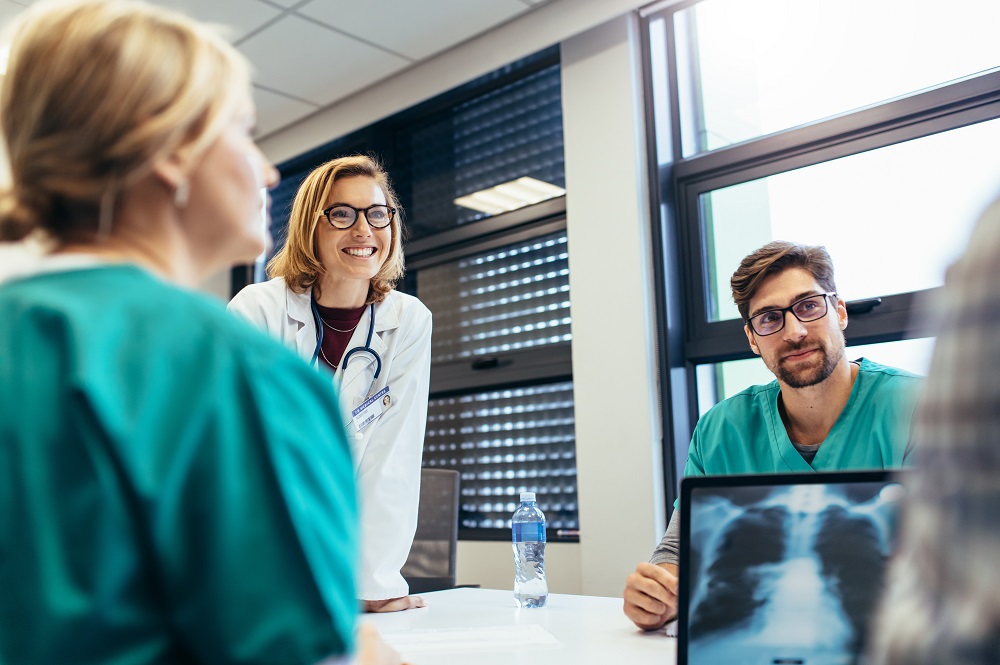 Healthcare
Transforming the way that the NHS, health and social care handle conflict, change and challenge.
The handling of workplace conflict has been a longstanding problem within the healthcare sector. With so much at stake, staff frequently report a fear of speaking up, due to the expected investigative processes or bullying from their colleagues. Since 2001, The TCM Group have been working with healthcare leaders to implement person-centred processes and values-based cultures.
All of our work supports the development of a culture where issues are resolved quickly, mistakes learnt from and risks to patient care associated with unresolved conflict are greatly minimised. Since our formation, we have worked with over 300 NHS trusts and health and social care organisations, cementing our position as the UK's leading provider of conflict management, employee relations, leadership, and management development programmes to the NHS, health and social care.
There is a culture within many parts of the NHS which deters staff from raising serious and sensitive concerns and which not infrequently has negative consequences for those brave enough to raise them.
Robert Francis, Freedom to Speak Up Review
A Respect & Resolution Framework for NHS, Health & Social Care organisations
The TCM Group's Resolution Framework™, also known as the Respect & Resolution Framework™ has been developed as a person-centred, solutions-focused and fully legally compliant alternative to traditional HR policies and procedures.
Organisations as widely recognised as London Ambulance Service and The Royal College of Paediatrics & Child Health have worked with us to make such a change, with a truly transformational impact on their employees and culture. Our animated explainer video demonstrates how the framework works!
How we support NHS, Health and Social Care organisations
TCM has been developing a reputation for providing innovative and highly effective remedies to conflict, change, bullying, incivility, and complaints within Healthcare Trusts and various social care organisations. Our health and social care resolution services and training programmes are delivered by experts with extensive experience working within the healthcare sector. These include:
Supporting healthcare leaders and other stakeholders to embed fair and just cultures
Professional mediation services and training for healthcare employees and teams
Designing and delivering high quality bullying reviews and neutral evaluations
Providing professional investigation services and investigation skills training
Embedding alternative HR and ER policies which support a fair and just culture
How we can help your organisation
Redefining Resolution Within Healthcare Organisations: The eBook
As the NHS begins to build back after the global pandemic, we believe its focus should be on respect, resilience and resolution. To support such organisations seeking to build back better; we have created a unique eBook to shine a light on the urgent need for the NHS to reframe its current approaches for managing complaints, concerns, conduct and culture at work.
Download your copy today, as a first step towards cultural change.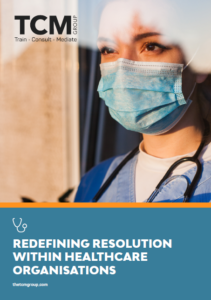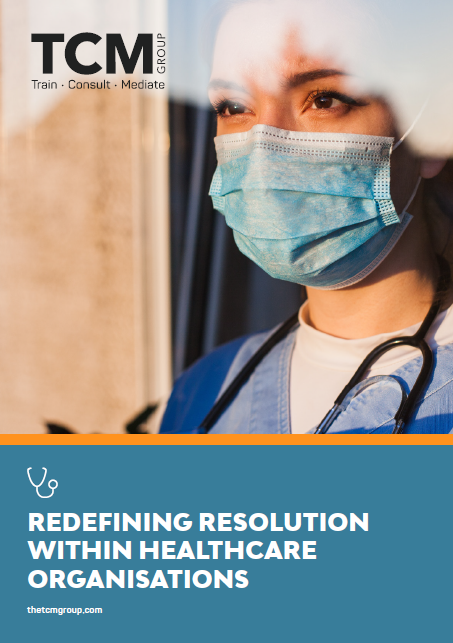 Some of our recent projects within the health and social care sector include:
Public Health England: TCM trained a team of internal mediators for PHE
Health Education England: TCM designed and delivered training for over 100 clinicians, managers and HR across the East of England
East London NHS FT: TCM has worked with ELFT to embed a mediation scheme and we have trained 24 in-house mediators for the Trust.
London Ambulance Service: TCM has been working with LAS for several years. We have trained in-house mediators, over 100 round table facilitators and various managers in conflict resolution skills. We also offer LAS an outsourced mediation service.
Northumbria Healthcare NHS FT: TCM has worked with NHFT for several years to embed a Total Conflict Management System. The trust has seen a significant reduction in bullying at work along with many other benefits. This initiative has been subject of a major review by two leading academics.
West Midlands Ambulance Service: TCM has trained internal investigators for WMAS and we have supported the trust to develop robust investigation procedures and documentation.
Chelsea and Westminster Hospital NHS FT: TCM has helped ChelWest to introduce an in-house mediation scheme and we have recently run conflict resolution skills training for managers and other stakeholders.
James Paget University Hospitals NHS FT: TCM was commissioned to embed a mediation scheme for James Paget. In addition, we have delivered training for 16 senior mangers and we have trained 140 front line employee and manages in compassionate and confident conversations.
Cheshire and Wirral Partnership NHS FT: TCM was asked to set up an internal mediation scheme for the trust including training a cohort of 12 internal mediators. Since then, we have fostered a strong partnership with the trust and we continue to support them with various facilitation, consultancy and training support.
St George's University Hospital NHS FT: TCM has been commissioned to set up an internal mediation scheme for the trust. This includes training a team of trust mediators as well as providing our award-winning mediation scheme systems.
HPMA: TCM runs regular workshops for the HPMA including conflict resolution skills, facilitated conversations and investigation skills.
NHS Improvement: TCM works closely with NHSI to develop their thinking regarding tackling violence and bullying.
The Homerton University Hospital NHS FT: We have worked with the Trust for several years to embed a culture of mediation including training accredited internal mediators and supporting the design and implementation of a trust-wide mediation scheme.
We must listen to what our colleagues have to say, allowing them to fully explain their circumstances, rather than being forced to try and prove their innocence. When things go wrong, the question shouldn't be who to blame, but who has been hurt by what has gone wrong?
Nicky Ingham, Executive Director at the Healthcare People Management Association