Award-winning resolution and HR transformation services, investigation services, conflict management consultancy, and management programmes.
A world-class team
Industry experts who bring passion, energy and expertise to every assignment.
When I set up The TCM Group in 2001, I wanted to help organisations to embed the systems, the processes and the behaviours which brought the best out of their people and which helped to make their organisations thrive. My vision was, and still is, to create happier, healthier and more harmonious workplaces.
It started with mediation but it has become so much more!
The TCM Group is on a mission to transform the culture of the modern workplace. We work with HR professionals, leaders, managers and employees to create profitable, passionate and productive workplaces and working relationships. We do this by developing person centred, values-based, fair, just and inclusive workplace cultures. Workplace cultures where dialogue, co-operation, collaboration and emotional intelligence are embedded deep into the organisations systems, structures, behaviours and psyche.
The TCM team are the people who make it all happen. They have an unrivalled depth of knowledge and industry expertise including human resources (HR), law, psychology, organisational development (OD), employee relations (ER), teaching and, of course, mediation. Put simply, they are world-class. TCM consultants operate across the UK and increasingly overseas. If you'd like to find out more, please click here to download 'The Story of TCM'
On behalf of all of the team at TCM, I look forward to hearing from you and hopefully working with you in the future.
David Liddle, Founder and CEO of The TCM Group
TCM has an unrivalled track record.
Below are a small selection of the organisations who have partnered with TCM. Click on the logo for a detailed case study or more details.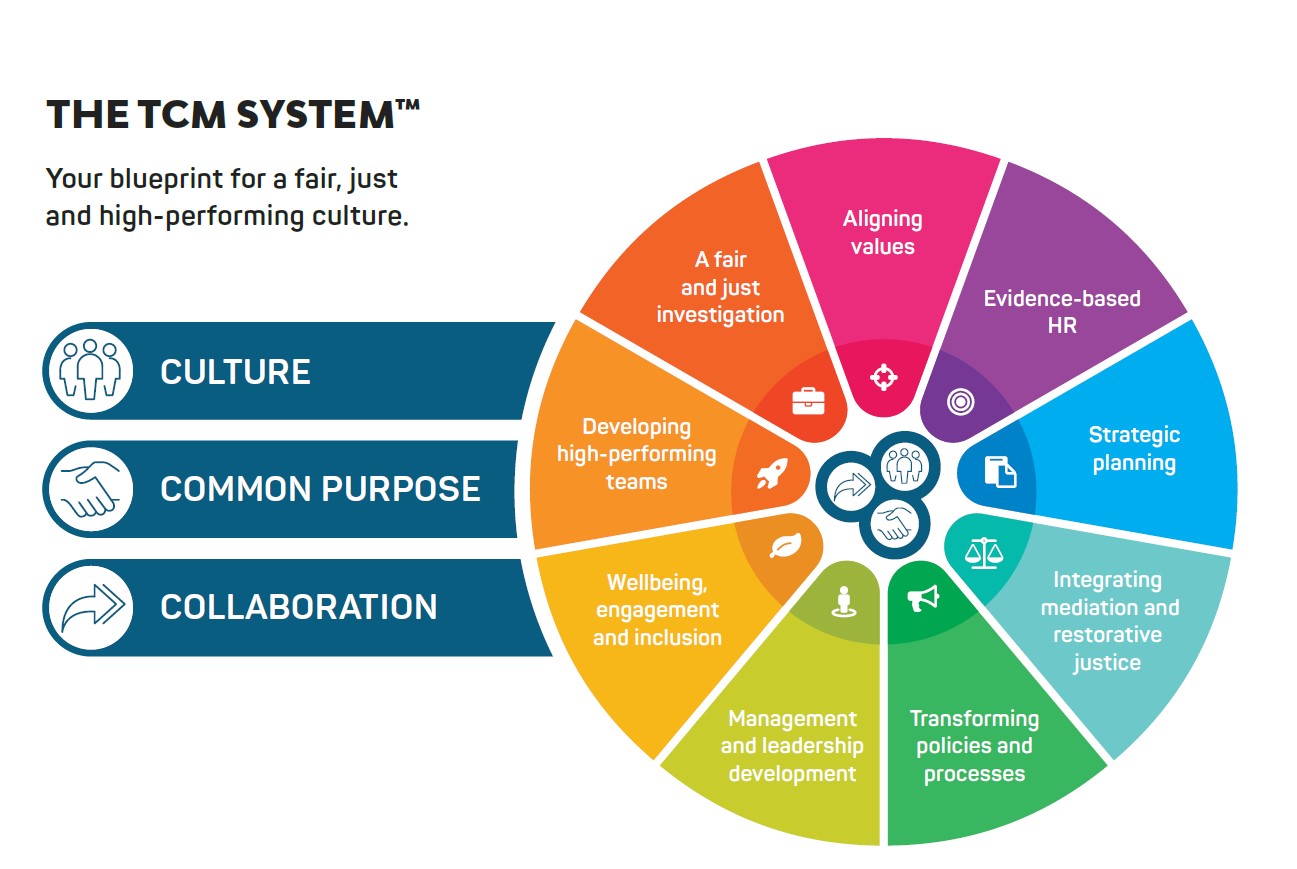 Your blueprint for a fair, just and high performing culture
The TCM System™ is used by numerous organisations to underpin their management systems, HR policies and People and Culture Strategies.  The TCM System™ delivers a values based, person centred approach to human resources, employee relations, organisational development and leadership.
The TCM System pulls together best practice from the fields of systems thinking, behavioural science, nudge theory, positive psychology, emotional intelligence and non-violent communication. However, whilst the TCM System is packed with strong underpinning frameworks, it has been designed to offer a no nonsense, common sense model which is easily applied in practice.
Our customers tell us that the TCM System™ contributes directly to the development of a high performing, happy,  healthy and harmonious workplace.
Professional training and events from TCM
TCM.tv - watch us in Action
Below are a selection of videos, webinars and recordings from events that we have produced.