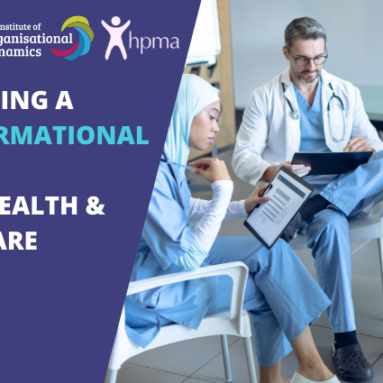 "When excellent staff experience is achieved, staff become inspired to be the best people that they can be at work, which in turn delivers the best patient care. To achieve excellent staff experience employers must create an environment where staff can succeed, feel valued, supported and encouraged." – Staff Experience, NHS Employers.
Making Staff Experience a Priority
There's no need to remind anyone of the huge stresses and pressures that our healthcare heroes have faced over the past couple of years. It has been long recognised how challenging the working conditions, within the NHS especially have been, and the importance of building a better culture for its employees is widely shared.
We're now at a crisis point. Over half of NHS doctors have reported that they are suffering from at least one mental health condition. We must raise our hats to those who are carrying on, and simply trying to get through, with the hope that things will improve. Unfortunately, and understandably so, a large proportion has been having thoughts of leaving the profession.
As the pandemic (hopefully) continues to ease, it's really time that our healthcare leaders had a long, hard think about what they can do to improve their working cultures. Wellbeing conversations are an excellent example of this and are perhaps a practice that every employer should be offering.
But we know that so much more can be done. Join us in January to find out how.
The Transformational Culture Model
A Transformational Culture is a culture that is fair, just, inclusive, sustainable and high performing. It is the brainchild of our CEO David Liddle, and the basis for his latest book. Over the coming months, we will be working with our first cohort of Transformational Trailblazers, becoming the very first organisations to implement the initiative.
Organisations such as Northeast Lincolnshire Council, London Borough of Tower Hamlets Council, and Canterbury Christ Church University will be launching into their cultural change journey with us, and we cannot wait to support them.
When designing the model, David very much had the NHS and Healthcare Sector in mind. By integrating the various elements of a Transformational Culture, the sector can move away from some of its dated, damaging and destructive cultural norms, to build back better and create a more person-centred, values centred culture.
An exclusive event in partnership with the Institute of Organisational Dynamics and Healthcare People Management Association (HPMA)
As part of our ongoing and collective efforts to build a better working culture in the NHS, Health and Social Care sector, we are preparing to embark on a research project as part of our strategic relationship with the HPMA.
The objective of the project is to explore the need for a new cultural paradigm within the health and social care sector. A variety of research methods are to be deployed, with the involvement of TCM customers, and HPMA members.
To launch the project, we're hosting an introductory session this January, and are currently in the process of confirming an exciting array of guest speakers and thought leaders from across the healthcare sector. Bookings are now open to NHS, Health and Social Care professionals.
Date: Thursday 13th January
Time: 1:30- 3:30pm
Delivery: Online, via Zoom
Limited free places can be secured, here.
Matt Giblin: Marketing Manager at The TCM Group[/vc_column_text][/vc_column][/vc_row][vc_column width="2/3″][/vc_column]
You may also like to read