CURRENT VACANCIES AT TCM
The TCM Group is inviting applications from suitably qualified candidates for the post of Head of HR Consulting
Key Facts
TITLE: HEAD OF HR CONSULTING
OVERVIEW: LEADING TCM'S  RESOLUTION SERVICES AND HR, OD AND PEOPLE AND CULTURE CONSULTING AND TRAINING PROGRAMMES
BUSINESS LOCATION: BUSINESS DESIGN CENTRE, ISLINGTON, LONDON, N1 OQH.
REPORTS TO: TCM's MD (Claire Gearon) with regular opportunities to work clsoely with David Liddle, CEO 
SALARY: upto £60,000 per annum. Comprising £45K base salary plus £5K performance  related pay. We also offer a non performance related profit share scheme (OTE = £10K profit share bonus). There is no cap on salary and, as TCM grows, so too will your remuneration.
BENEFITS: Pension scheme plus generous holidays including birthday leave.
HOW TO APPLY: Please submit your CV plus a covering letter demonstrating how you meet our requirements to jobs@thetcmgroup.com. Applications without a covering letter will be rejected. The covering letter should the requirements for this post with examples where possible.
The deadline for submission of applications is 5pm on Friday 10th July 2020.
If you wish to have an informal conversation with the CEO of TCM before submitting your application, please email: lisajay.baker@thetcmgroup.com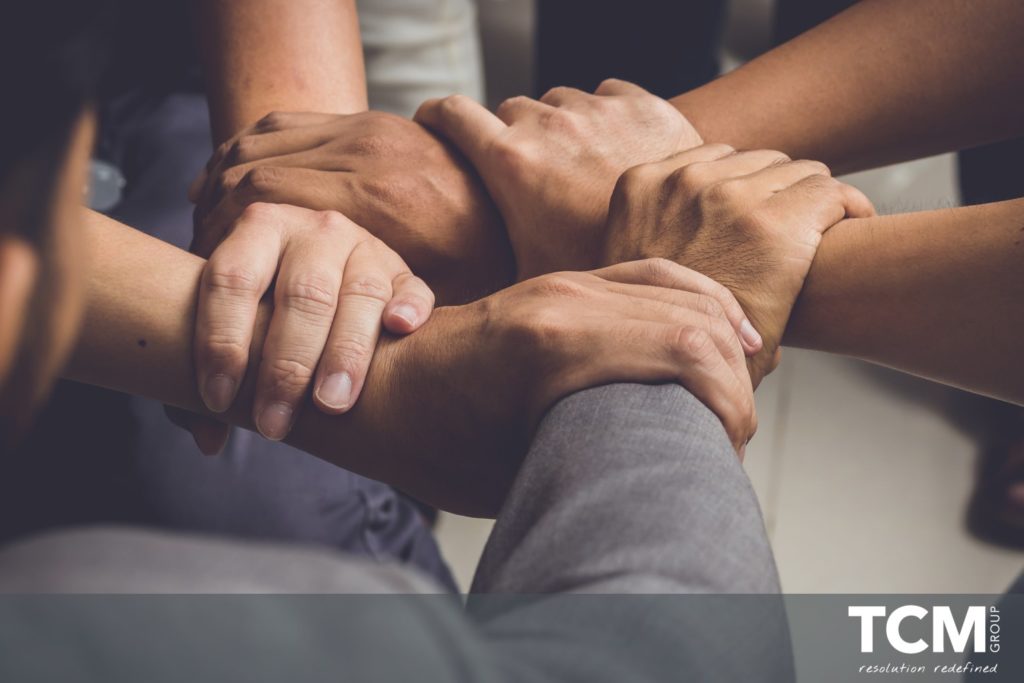 Are you seeking a leadership role in one of Europe's leading people, culture, and leadership consultancies? Are you a natural entrepreneur, with a proven track record in sales, marketing and business development?  Are you determined to effect change in the world of work?
TCM is seeking a suitably qualified and experienced HR or OD expert to lead our award-winning resolution and people and culture consulting activities thereby supporting us to realise our ambitious growth and expansion plans.
As a well-established consultancy, a substantial amount of our work is generated through relationship management, recommendations, and referrals. Therefore, a substantial part of this role will include customer engagement and relationship management. Of course, securing and retaining new business is also important. You will lead an end to end business development and contract delivery process covering our HR consultancy services including handling enquiries, tender and bid writing, customer onboarding, running 3D reviews (Discover, Diagnose Design), contract compliance, troubleshooting & problem solving, evaluating the impact of our services and ensuring an exemplary level of follow up.
Working closely with a team of the world's top HR, OD and L&D professionals, you will lead on the development, promotion, implementation, and evaluation of the following aspects of TCM's HR consulting activities:
Resolution services
In-house and outsourced mediation schemes.
TCM's range of mediation and conflict management services and associated training.
Team mediation and team facilitation services.
Workplace Restorative Justice programmes and consulting.
Employee relations consulting and training.
HR Transformation
The TCM Resolution Framework™ (the proven alternative to discipline and grievance procedures).
Progressive, person centred and values-based HR and management systems, guidelines, policies, and procedures.
Cultural change programmes for our customers including supporting our customers to develop fair, just, inclusive, engaged, and high performing cultures.
People and culture strategies plus the activities and services which underpin the implementation of our customers people and culture strategies.
Training and coaching for HR, ER, OD and L&D teams.
Change management, organisational development, and turnaround consultancy programmes.
You will be an ambassador for TCM and its principles which will include designing and running workshops and speaking at conferences and events. Excited about the world of social media and digital communications, you will enjoy engaging in regular social media and web-based activities such as writing blogs, webinars, and online chats/clinics.
You will be the quality lead for our various resolution and people and culture consulting services and courses. You will be passionate about the quality of the services our consultants are delivering. Your proactive approach will ensure that you are able to predict and plan for the changing needs of the business and ensure that we have access to the necessary talent to deliver our commitments.
You will seek to continually improve our range of resolution and people & culture courses and training programmes. You will also be required to extend our flexible learning solutions, ensuring that our courses and programmes are taking full advantage of digital teaching and eLearning solutions and applications.
The leadership team at TCM are proud of what we have achieved over the past 20 years. Looking ahead over the next twenty years, we are extremely ambitious, and we are excited about the potential for significant growth and expansion measured in terms of customer acquisition, customer retention, revenue growth and profitability.
About you
With over five years' experience working as an HR/OD consultant or operating at, or working towards, a senior level in an HR, OD, ER and/or L&D role, you will bring the following skills, knowledge, and experience to the role:
Relevant masters level qualification or equivalent experience.
A commitment to the principles, models and techniques which underpin the TCM System.
Experience of working in a commercially driven environment and achieving commercial targets.
Experience of developing person centred and values-based initiatives or strategies which generated measurable business outcomes.
Experience of building, leading, and managing a high performing team.
Experience of innovating, independently and through collaborative teamwork, promoting feedback, challenge, and debate to help optimise business solutions.
Experience of presenting ideas persuasively, creating a compelling case, and securing agreement to ideas.
Outstanding written and verbal communication skills with experience of writing a range of formal and informal business documents such as bids, tenders, pitches, management reports, strategy documents or case studies etc.
A track record in driving continuous improvement which has contributed to business growth.
Experience of using IT systems which improve efficiency, enhance customer experience and which help to assure quality.
Demonstrable experience of building long term commercial relationships with senior external stakeholders.
Evidence of being a starter-finisher with a high growth, continuous improvement mind-set.
 Desirable
Experience of developing and delivering against a people and culture strategy or a people plan.
Experience of developing and delivering against a sales and marketing plan.
Experience of applying the CIPD HR profession map and an understanding of its impact.
Experience of communications and PR including public speaking and social media.
Experience of leading a pitch team.
Understanding of systems thinking and evidence of using systems thinking within projects that you have worked on.
A well-established network within the HR and OD profession.
Memberships
We welcome applications from candidates who are members of one, or more, of the following bodies and institutions:
CIPD
PPMA/HPMA
ILM/CMI
Institute for OD
Management Consulting Association (MCA)
Learning and Performance Institute (LPI)
Institute of training and occupational learning (ITOL)
Association for Project Management (APM)
Toastmasters International
Note for applicants: please respond to the above areas in your covering letter and include examples where possible. Please also refer to any of the desirable criteria which are relevant to you.
HOW TO APPLY
Please click on the orange button to download the application pack
If you would like to be considered for this role, please send a covering letter detailing how you meet the requirements plus your cv for the attention of David Liddle, CEO of the TCM Group to: jobs@thetcmgroup.com.
If you would like to have an informal discussion about this role with David, please contact Lisajay Baker by email: lisajay.baker@thetcmgroup.com
Please note that applications received without a covering letter will not be considered.
Benefits of working for TCM
TCM is one of the UK's leading mediation, conflict management, employee relations and leadership consultancies and training providers. TCM works with well over 4000 organisations worldwide. We offer a wide range of opportunities in the areas of training, mediation and resolution consultancy as well as corporate roles such as management, finance, customer care, marketing, administration, project management, sales and account management.
Our vision is simple; to help organisations to embrace a form of justice which promotes dialogue, compassion and collaboration. We don't just focus on what we do, we care deeply about how we do it. We have an expectation for ourselves and each other, and that guides our work and behaviour every day. Given the work that we do, it will be no surprise that our values  define us:
INNOVATION | COURAGE | EXCELLENCE
COLLABORATION | INTEGRITY
Workplace Mediation Courses