The workplace investigation – getting it right first time.
If you require a professional investigation undertaking into a complex situation in the workplace, TCM can help. We have a panel of some of the top workplace investigators in the UK comprising former senior police officers, HRD's and lawyers. They are all specially trained to investigate a wide range of misconduct issues plus bullying, harassment and discrimination allegations. We are proud to offer our customers a bespoke and high quality workplace investigation service which will ensure that you, the employer, can pursue a course of action which is compliant, consistent and credible. Our professional investigators deliver an impartial, fair, structured and rigorous assessment of the evidence relating to an allegation or a series of allegations.
No one wants to have to do an investigation. But sometimes it is the only thing to do and it is the right thing to do. In these cases, our advice is to get it right first time. The stakes are too high to try a bit of DIY investigation or detective work.
TCM are here to help and we are happy to answer any questions that you might have. Please call us on 0800 294 97 87 or contact us via our online contact form.
The FAIR Investigation Model™
TCM's FAIR Investigation Model™ advocates a compassionate, empathetic and non-confrontational approach for interviewing and investigating. That's not to say the process is not rigorous, challenging and highly effective. However, experience has taught us that parties who feel threatened in an interview release high levels of adrenaline and cortisol which means that they can become defensive which in turn can create hostility or withdrawal. Using the power of Positive Psychology during our interviews, we enable the parties to feel safer and more secure which has significant benefits for them, for the interviewer and for the investigation process as a whole:
The investigation is less stressful, damaging and corrosive for the parties
Creating less stress, fear and anxiety means that we protect relationships between colleagues and managers.
We may be able to interview less people to identify the truth which means that working relationships stay intact.
Investigation skills training from TCM
TCM delivers three investigation skills training programmes. These programmes are suitable for anyone who is required to undertake a workplace investigation – from an initial fact-finding exercise through to a complex investigation into misconduct, fraud, bullying, harassment or discrimination.
Core Investigation Skills™ (1 day)

Suitable for HR advisors, supervisors and line managers who are required to undertake fact finds into complaints, grievances and low level matters.

Practical Investigation Skills™ (2 days)

Equips internal investigators with the skills and strategies to set up, run and report on an investigation into a wide range of disciplinary matters. Includes numerous interviewing skills.

Advanced Investigation Skills™ (3 days)

This course is suitable for people who are required to investigate complex cases including fraud, bullying, harassment and discrimination.
Our courses are always tailored to meet your organisation's specific requirements. For more details about our investigation skills courses, please click here or call us on 0800 294 9787
Are you looking for a Neutral Evaluation?
Please call TCM on 0800 294 97 87
TCM also delivers Neutral Evaluations into a wide array of situations in the workplace. These are a fact find, undertaken by experts, to help you decide which course of action to take. For more details, please click here
The Neutral Evaluation can be a very useful way to identify the most appropriate route to resolution in a particular situation. In some cases, it may result in mediation, coaching or team facilitation. In other cases we may recommend a formal investigation. Neutral Evaluations typically take two to three days to complete.
David Liddle's new book. MANAGING CONFLICT contains valuable advice, hints, tips and resources to help HR and managers handle difficult situations at work.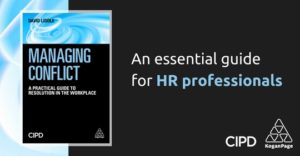 Trending...