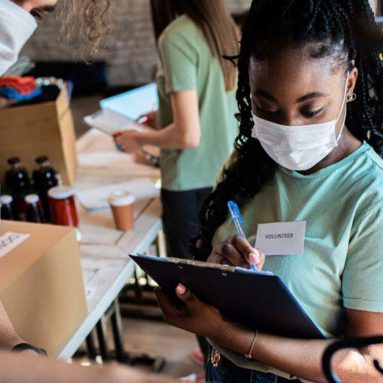 Rebuilding Broken Bonds Post-Pandemic
Transformation Consultant
Stephen Hague

Stephen Hague has over 15 years of management experience, with a known reputation for building effective, collaborative, and high-performing teams. Mentoring, training, and coaching come naturally to Stephen, leading to his lifetime of work with a wide range of organisations. As such, Stephen was a logical fit to build the broken team in question.
Download this case study
Client feedback
"A fractured and disjointed bunch, with some dislike, feelings of unfairness, and instigation of childish behaviour changed to a receptive and high-performing team. It's a huge step forward: there's more acceptance, better communication, and firmer cohesion. They're come a long way in a short space of time."
Introduction
In August 2021, Resolution Consultants Stephen Adams and Stephen Hague designed and co-facilitated a unique team development and leadership programme to a UK-based national charity that provides advice, guidance, and support to vulnerable people. The organisation prides itself on being a richly diverse national team, delivering life-changing services to those most in need and prioritising positive outcomes. TCM was chosen to deliver this programme due to their longstanding relationship and affirmative success with the charity. Previous litigation processes were consulted by TCM, meaning that the consultants came into the situation with a shared understanding of the issues that had been festering for months. Spokespeople for the charity noted that having consistency by using TCM was extremely useful to build trust and maximise resolution.
Targeting issues
COVID-19 acted as a catalyst for catastrophe:18 months of unaddressed issues culminated to fracture workplace relationships, build hostility, and spread discontentment. Forced to work from home, employee interaction was few and far between – resulting in mass miscommunication and misunderstanding. A divide splintered newer and older members of the team due to a combination of staffing changes and a new and inexperienced manager that was both widely criticised and resistant to help.
Team members felt underappreciated and undervalued, with unequal and exclusionary treatment, creating a massive melting pot of staff that were unhappy, unproductive, and incompliant. Disciplinaries and grievances were filed and appealed – after this, the team was shattered. How could we bring them back together? - ANONYMOUS SPOKESPERSON
Making Resolutions
The senior leadership team were having difficulties working positively and collaboratively, the aim was to get these individuals in a room together to build relationships, redefine roles and assign accountability. The team environment had been lost amongst the isolation of the pandemic, meaning that face-to-face dialogue was imperative to understand each other and overlapping difficulties.
1. A discovery questionnaire to uncover disillusionment
Following the conversations, facilitated and guided by both Hague and Adams, the senior leaders learned and implemented better working practice, with greater shared understanding. The leaders were taught a different style of management, moving from dictation and despondence to collaboration and communication.
The senior team really appreciated the session and the time they spent together. They enjoyed spending time in the office and getting to know everyone as people rather than colleagues."
2. A manager workshop for 7 managers
The team under the senior leadership met together for a similar discovery phase, providing a safe space for issues to be brought to the fore. Individuals were actively listened to, with open dialogue and uninterrupted communication, to work towards better working practice.
3. Group session
Both teams were brought together in a final session to break down an intersection of hostility, negativity, and concern. A team charter was designed and agreed upon by all parties that would direct individuals' operation and communication. This charter will appear on all documents, serving as a visual reminder of commitment to values of respect and understanding. A small but ever-present symbol of the cultural impact of the team development programme.
You wouldn't think they're the same team. People that once felt afraid, now feel confident to speak up. This experience, coupled with the pandemic, has taught us that it's never been more important to draw a line, step away from the past and move forward.
Impacting culture
Following TCM's intervention, the month-by-month performance rates rose by a staggering amount. The charity was able to increase one of its key measurable support outputs by 125% from July to August 2021, showcasing just how much productivity was impacted by adjusting team culture. This meant that the output target forecast for August was superseded by 22%. This drastic change in team performance was no happy accident. The team building sessions fostered greater motivation, enabling employees to tune into their own behaviours, personal responsibility, and peer relationships. Participants praised the consultants, Stephen Adams and Stephen Hague, for their flexibility and approachability. Knowing that they were always on the end of the phone, offering unwavering support to team members, made all the difference. "A fractured and disjointed bunch, with some dislike, feelings of unfairness, and instigation of childish behaviour changed to a receptive and high-performing team. It's a huge step forward: there's more acceptance, better communication, and firmer cohesion. They're come a long way in a short space of time."
Looking forward
As the team has vastly improved as a collective, the new focus will be bringing individual performance up to this standard. In line with this, safeguarding will be prioritised in order to continue the happy, contributing space that the team now coexist in. This particular team aims to enact cultural change across other regions in the UK to ensure that values, behaviours, and tools correspond across the entire organisation. Prior to the programme, data was not compiled or collated to manage performance, and positive values of respect and collaboration were not instilled in employees. With a team charter and detailed performance management, organisational success can continue to thrive nationally, allowing the charity to help others to the best of its ability.