NATIONAL CERTIFICATE IN WORKPLACE MEDIATION™ – HOW TO BECOME A TCM ACCREDITED MEDIATOR
TCM delivers the benchmark mediation qualification for workplace and employment mediators – the National Certificate in Workplace Mediation™.
We have been running this OCN accredited mediation skills course since our formation in 2001 and we have trained several thousand mediators who are now using their mediation skills to resolve complex workplace issues. Organisations who have partnered with TCM to train mediators through the National Certificate in Workplace Mediation™ include: HSBC, Royal Mail, BA, TSB, Network Rail, National Express, Marks and Spencer, BT, The Metropolitan Police, The Home Office, DWP and Ofcom, plus numerous other Whitehall Departments, universities, hospitals, police forces and councils. Delegates who successfully complete this course refer to themselves as a TCM Accredited Mediators – thereby demonstrating the highest standards of mediation practice in the UK.
There are so many 'mediation training providers' on the market at the moment – it can be confusing to know who to choose. The National Certificate in Workplace Mediation™ was one of the first accredited mediation courses available in the UK. We pride ourselves on delivering a world class course to delegates. Don't just take our word for it, please click here to read the several hundred testimonials from previous delegates.
The course gives delegates an in-depth analysis of the psychology of conflict and it delivers a robust understanding of the causes and effects of workplace disputes. Delegates develop the skills and strategies they need to identify cases where mediation is suitable and securing a commitment to mediation from the parties. Delegates develop a deep understanding of the role of mediation in the modern workplace an understanding of how mediation works as part of wider management practices and HR processes.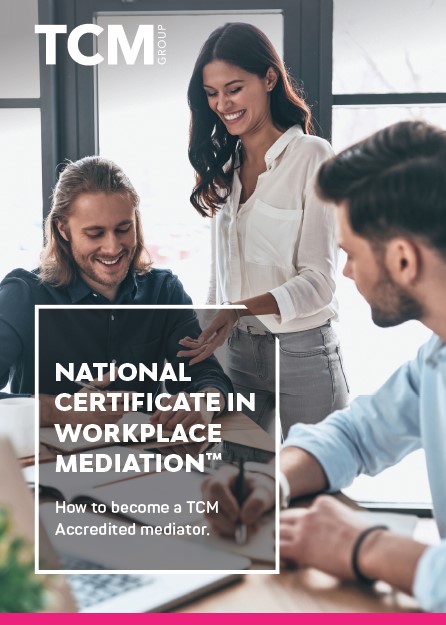 The National Certificate in Workplace Mediation™
Please click here to download the course brochure. This brochure includes details of the course structure, the benefits of attending, information about the assessment and accreditation plus valuable information about the support and aftercare available to delegates.
TCM's expert trainers deliver a step-by-step mediation model and delegates spend time developing skills and strategies to mediate complex employment and workplace disputes. Please click on the image to download the latest National Certificate in Workplace Mediation™ brochure
Your organisation benefits by training internal mediators because:
Mediation is effective at resolving a range of issues including relationship breakdown, personality clashes, communication problems, bullying, discrimination or harassment.

It might be a single employee with a grievance, a disagreement between an employee and a manager, or an issue between two co-workers.

Differences between individuals at work can lead to grievances, absenteeism and ultimately loss of valuable employees. As a result, workplace disputes cost businesses tens of thousands of pounds per year.

Mediation helps people sort out their differences – often in just one-day. That's why organisations are increasingly training their staff to mediate in workplace disputes.
Would you like this course delivered in-house?
TCM specialises in tailoring all of our courses for in-house delivery. We also design and deliver bespoke courses and training programmes for our customers. If you would like to find out more, please feel free to give us a call on 020 7404 7011 or complete the enquiry form below and we'll get back to you.