Practical Investigation Skills™
This two-day course is our most popular investigations skills course as it equips delegates with the skills and strategies to set up, run and report on a workplace investigation.
It is suitable for in-house investigators and consultants. The course leaders will assist delegates to understand the scope of an investigation, develop clear terms of reference, interview the parties, gather evidence to support the investigation, prepare a final report and give evidence at relevant panels and appeals as required. This course is suitable for investigators who are investigating a wide range of disciplinary issues plus allegations of bullying harassment and discrimination which, if upheld, may result in a formal warning or dismissal. Delegates who successfully complete this course are able to refer themselves as a TCM Accredited Investigator.
Practical Investigation Skills™ is one of the most well recognised investigation skills short courses available. We pride ourselves on delivering a world class course to delegates. Don't just take our word for it, please click here to read reviews and accolades from previous delegates.
All delegates receive 12 months follow-up support to help them to embed the learning. This TCM Blended Learning programme incorporates pre and post course learning to support participants' development of knowledge and skills. Participants can develop peer networks through interaction before, during and after the programme to share knowledge and resources.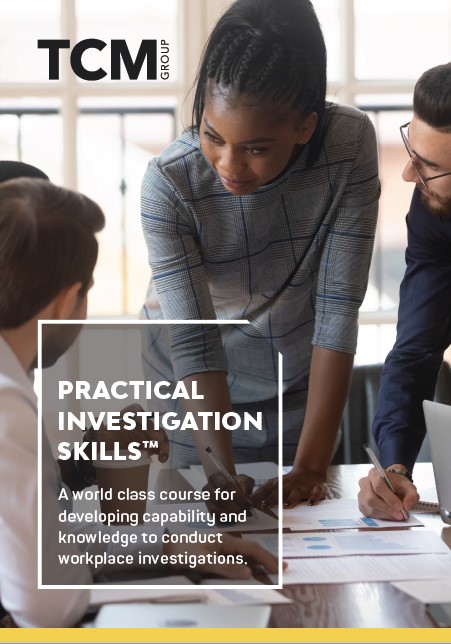 Practical Investigation Skills from The TCM Group
Please click here to download the Practical Investigation Skills course brochure. This brochure includes details of the course structure, the benefits of attending, information about the assessment and accreditation plus valuable information about the support and aftercare available to delegates.
Would you like this course delivered as an in-house course?
TCM specialises in tailoring all of our courses for in-house delivery. We also design and deliver bespoke courses and training programmes for our customers. If you would like to find out more, please call us now on 0800 294 9787 or complete the enquiry form below and we'll call you straight back.
Trending